Available Study Tools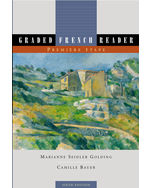 eBook: Graded French Reader: Première Étape
ISBN-13: 9780357233955
About This Product
Developed for second- and third-year French courses, Graded French Reader, Première étape, 6/e, helps students transition from language-based courses to literature and culture courses through review of vocabulary and grammar and an emphasis on oral communication. Presenting a variety of genres, the readings feature works by contemporary francophone authors, including women writers. Texts are organized in order of difficulty and are presented in manageable sections. Comprehension, linguistic, and communicative activities accompany each reading.
All-You-Can-Learn Access with Cengage Unlimited
Cengage Unlimited is the first-of-its-kind digital subscription that gives students total and on-demand access to all the digital learning platforms, ebooks, online homework and study tools Cengage has to offer—in one place, for one price. Students get unlimited access to a library of more than 22,000 products for $119.99 per term.