Students Accelerate Learning with MindTap
MindTap is the platform that powers students from memorization to mastery. It gives you complete control of your course—to provide engaging content, to challenge every individual and to build students' confidence.
Accelerate Your Course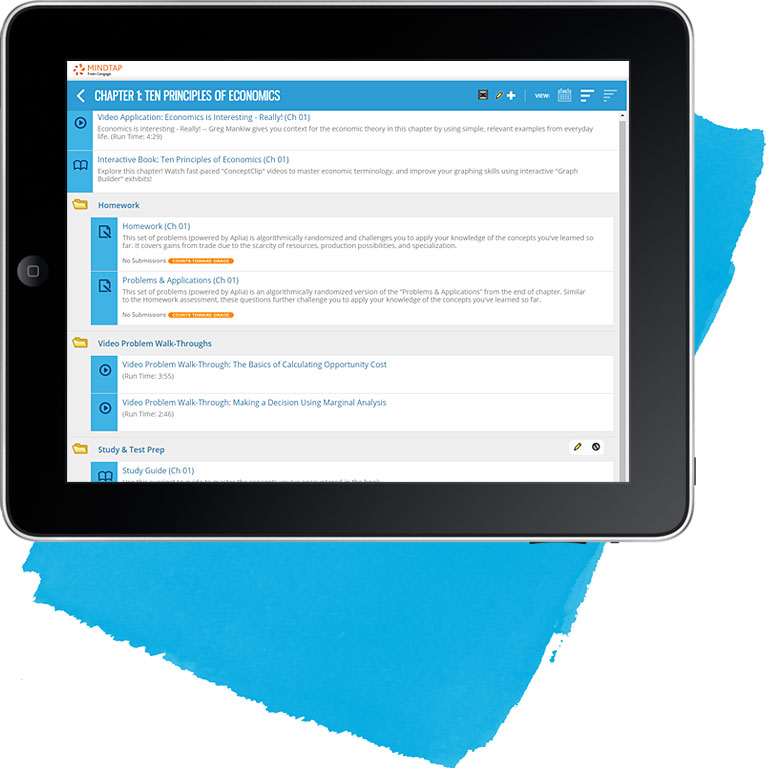 Create Your Own Potential
Show What You Know

Now available right from your MindTap course with the ePortfolio app, Pathbrite makes it easy for students to capture and share the evidence of skills beyond the GPA. With Pathbrite portfolios, students can collect images, videos, documents, and more to showcase their achievements.
Why Students Love MindTap
Digital Learning On-the-Go Works for Rodney
"There's no need to lug around heavy textbooks, pens, or paper anymore. With MindTap, you can learn at your leisure—whenever, however it's convenient for you. Read texts and work on assignments right in the system. Plus, you'll receive handy reminders so you'll never be in the dark about when things are due."
Tatiana Likes Having Resources All in One Place
"Go to the library with a click of a button. Find textbooks, maps, video clips, photos—everything you need to do your assignments. The best thing is that all of these resources are all in one place! Students are using technology all day, every day. MindTap takes the tech tools they need to succeed and puts them directly into their hands."
Michael Credits the Program for Helping Him Get Better Grades
"Staying accountable for your grades is an important lesson for students. MindTap takes the guesswork out of how you're doing so there are no surprises. With MindTap, you'll see the total picture of the grades you've earned in the course and know what you need to score on the next test to maintain a certain average."
Having Everything in One Place Does Matter, Says Erica
"When everything that you need is in one place, things tend to go much more smoothly. MindTap is a comprehensive study tool that gives you everything you need to success—e-textbooks, quizzes, assignments, flashcards, a dictionary if you get stuck on a word—it's all there! MindTap is the whole package."
J'Aaron Talks About Learning—Anywhere, Anytime
"Today's students want the flexibility to study anywhere, anytime. MindTap delivers! Take MindTap with you on your phone or laptop and you'll be able to squeeze in a few minutes of homework or study time whenever you have a break in your day. Successful students in the digital age are MindTap students."
Digital Learning On-the-Go Works for Rodney
"There's no need to lug around heavy textbooks, pens, or paper anymore. With MindTap, you can learn at your leisure—whenever, however it's convenient for you. Read texts and work on assignments right in the system. Plus, you'll receive handy reminders so you'll never be in the dark about when things are due."
MindTap Makes an Impact on Teaching and Learning
They're coming in and they're telling me how great they did on their assignment, their pretest, and the Aplia assignment. When they tell me and I see the excitement in them about that, we're doing it right. This is working."
"My students love MindTap. They love the fact that I'm not lecturing, that I'm flipping the classroom. And MindTap allows me to do that, which I love too."
"One of the most important things I've seen so far is the ability to customize the course to bring in my own content, to bring in websites, to bring in YouTube videos. You can't do that in a print textbook."
Jesse Esparza Texas Southern University
Melody Alexander Ball State University
Donna Donald Liberty University
Featured Results & Research
In-person and Virtual Events
Keep You Engaged and Inspired
Get More with MindTap

Course List
MindTap has over 800 solutions spanning the curriculum. Is there a MindTap for you?
Download Course List→



Technical Support
Unlimited call, chat, and e-mail access to Technical Support for both you and your students.
Connect with Support →