All-You-Can-Learn Access with Cengage Unlimited
Meet Cengage Unlimited, access to all your Cengage courses on platforms like MindTap and WebAssign, our library of ebooks, study guides and tools, and a $7.99 rental with free shipping, all with one subscription starting at $119.99 per term. No matter how many courses you enroll in, or how many ebooks you use, the price of Cengage Unlimited stays the same.
Available Study Tools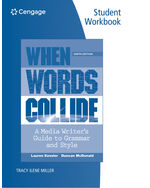 Student Workbook
ISBN-13: 9781305411067
Apply what you are learning in the text with this workbook featuring thirty-six exercises that provide opportunities to practice key grammar concepts outlined in the text and will help you develop the skills you need to become a successful writer.
Web Site
ISBN-13: 9781285764375
This outstanding site features rich learning and test preparation resources-including chapter-by-chapter tutorial quizzes and a final exam.
About This Product
Offering solutions for today's cross-platform, multi-media writing environment, Kessler and McDonald's WHEN WORDS COLLIDE, 9e is praised by students and professors alike for its straightforward presentation of grammar and writing guidelines. This versatile handbook works for both beginning and continuing media writers, providing concise, clear explanations and examples, as well as quick and accurate answers to common grammar and usage questions. The unique "from writer to writer" perspective guides students step by step through the writing process. The Ninth Edition emphasizes the importance of language skills to help students quickly learn to create effective prose. Its simplified rules appeal to students from a broad variety of backgrounds. In addition, engaging new boxed features reinforce key concepts.
All-You-Can-Learn Access with Cengage Unlimited
Cengage Unlimited is the first-of-its-kind digital subscription that gives students total and on-demand access to all the digital learning platforms, ebooks, online homework and study tools Cengage has to offer—in one place, for one price. Students get unlimited access to a library of more than 22,000 products for $119.99 per term.