Cengage Advantage Books: A Pocketful of Plays: Vintage Drama, Volume I, Revised Edition

|

1st Edition
Available Study Tools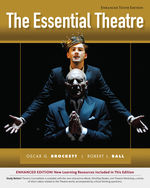 CourseMate Instant Access, Enhanced
ISBN-13: 9781285080840
Cengage Learning's CourseMate brings course concepts to life with interactive learning, study, and exam preparation tools that support the printed textbook. Maximize your course success with the integrated eBook and chapter-specific learning tools that include flashcards, quizzes, videos, and more in your CourseMate. Key Features: Interactive eBook, Engagement Tracker, Learning Objectives, Tutorial Quizzes, Glossary and Flashcards, and Web Links and References.
About This Product
As with the first Vintage anthology in the Pocketful series, this selection of some of the most commonly taught plays is aimed at satisfying the need for a concise, quality collection that students will find inexpensive sand that instructors will enjoy teaching. The reception of this series has supported the original assumption that students and teachers would welcome an innovative alternative to huge anthologies, which are rarely used in their entirety, tend to be too bulky to carry and to handle in class. A POCKETFUL OF PLAYS: VINTAGE DRAMA contains six plays that research reveals to be currently among the most commonly studied in class around the country. The plays include source materials to encourage further discussion and analysis, Among these enhancement are author's comments, biographical and critical commentaries, and reviews of actual productions.
All-You-Can-Learn Access with Cengage Unlimited
Cengage Unlimited is the first-of-its-kind digital subscription that gives students total and on-demand access to all the digital learning platforms, ebooks, online homework and study tools Cengage has to offer—in one place, for one price. Students get unlimited access to a library of more than 22,000 products for $119.99 per term.