All-You-Can-Learn Access with Cengage Unlimited
Meet Cengage Unlimited, access to all your Cengage courses on platforms like MindTap and WebAssign, our library of ebooks, study guides and tools, and a $7.99 rental with free shipping, all with one subscription starting at $119.99 per term. No matter how many courses you enroll in, or how many ebooks you use, the price of Cengage Unlimited stays the same.
Available Study Tools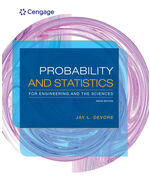 Student Solutions Manual
ISBN-13: 9781305260597
Go beyond the answers—see what it takes to get there and improve your grade! This manual provides worked-out, step-by-step solutions to the odd-numbered exercises in the text, giving you a way to check your answers and make sure you took the correct steps to arrive at them.
About This Product
Make statistics relevant and practical for students in any discipline of engineering or science with PROBABILITY AND STATISTICS FOR ENGINEERING AND THE SCIENCES, 9TH EDITION. Always a market leader, this calculus-based approach offers a comprehensive introduction to probability and statistics that emphasizes concepts, models, and methodology while also including underlying rationale, where appropriate. In otherwords, this is not simply a cookbook approach. Jay Devore, an award-winning professor and internationally recognized author and statistician, includes a plethora of authentic problem scenarios in examples and exercises, many of which utilize real data. MindTap® Statistics and WebAssign® options are available.
All-You-Can-Learn Access with Cengage Unlimited
Cengage Unlimited is the first-of-its-kind digital subscription that gives students total and on-demand access to all the digital learning platforms, ebooks, online homework and study tools Cengage has to offer—in one place, for one price. Students get unlimited access to a library of more than 22,000 products for $119.99 per term.