Making Europe: The Story of the West, Volume II: Since 1550

|

2nd Edition
Available Study Tools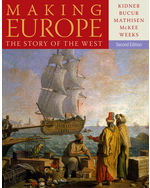 CourseMate for Making Europe: The Story of the West, 2 terms Instant Access
ISBN-13: 9781285079493
Cengage Learning's CourseMate brings course concepts to life with interactive learning, study, and exam preparation tools that support the printed textbook. Maximize your course success with the integrated eBook and chapter-specific learning tools that include flashcards, quizzes, videos, and more in your CourseMate. Key Features: Interactive eBook, Engagement Tracker, Learning Objectives, Tutorial Quizzes, Glossary and Flashcards, and Web Links and References.
About This Product
Help students succeed in courses on the history of Western Civilization with MAKING EUROPE. Developed by a team of authors who have spent many years making history accessible to a diverse range of students, each chapter begins with clear learning objectives and timelines, and continues with a readable narrative that uses focus questions throughout the text to help all students comprehend historical concepts. Students also have the ability to assess their understanding of the subject matter with the "Check-In" feature and the "Test Yourself" questions at the end of each chapter. The text uses stories of ordinary people and their impact on history that today's students will find interesting. Visually stunning images and maps build on the story and will engage any student. Available in the following split options: MAKING EUROPE, Second Edition Complete; Since 1300; Volume 1: To 1790; and Volume 2: Since 1550.
All-You-Can-Learn Access with Cengage Unlimited
Cengage Unlimited is the first-of-its-kind digital subscription that gives students total and on-demand access to all the digital learning platforms, ebooks, online homework and study tools Cengage has to offer—in one place, for one price. Students get unlimited access to a library of more than 22,000 products for $119.99 per term.