Intervention and Reflection: Basic Issues in Bioethics, Concise Edition

|

1st Edition
Available Study Tools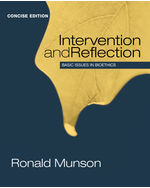 CourseMate for Intervention and Reflection: Basic Issues in Bioethics, Concise Edition, 1 term Instant Access
ISBN-13: 9781285781754
Cengage Learning's CourseMate brings course concepts to life with interactive learning, study, and exam preparation tools that support the printed textbook. Maximize your course success with the integrated eBook and chapter-specific learning tools that include flashcards, quizzes, videos, and more in your CourseMate. Key Features: Interactive eBook, Engagement Tracker, Learning Objectives, Tutorial Quizzes, Glossary and Flashcards, and Web Links and References.
About This Product
This concise book offers the same clear and accurate accounts of complex scientific findings with case presentations that have made Ronald Munson's INTERVENTION AND REFLECTION the best-selling textbook for this course area. Nationally acclaimed bioethicist and novelist Ronald Munson masterfully weds clear and accurate accounts of complex scientific findings with case presentations whose vivid narrative helps students connect science with the human emotion behind important and controversial biomedical decisions. These engaging cases and briefings conclude with succinct summaries of basic ethical theories and are followed by up-to-date and influential articles addressing the most pressing issues in bioethics today. You will quickly learn why INTERVENTION AND REFLECTION continues to be the most widely used bioethics textbook on the market: Students are often surprised to find that this unusual text is hard to put down. This concise version of INTERVENTION AND REFLECTION is ideal for classes in which there is not enough time or student expertise to grapple with the primary source readings that appear in the longer book. Available with InfoTrac® Student Collections http://gocengage.com/infotrac.
All-You-Can-Learn Access with Cengage Unlimited
Cengage Unlimited is the first-of-its-kind digital subscription that gives students total and on-demand access to all the digital learning platforms, ebooks, online homework and study tools Cengage has to offer—in one place, for one price. Students get unlimited access to a library of more than 22,000 products for $119.99 per term.