Available Study Tools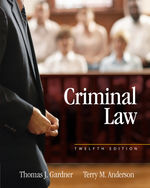 CourseMate for Criminal Law, 1 term Instant Access
ISBN-13: 9781285754680
Bringing course concepts to life with interactive learning, study, and exam preparation tools that support the printed textbook, Cengage Learning's Criminal Justice CourseMate offers access to an integrated eBook and such chapter-specific learning tools as flashcards, quizzes, videos, and more. Go to CengageBrain.com.
About This Product
This supplementary handbook covers almost 40 landmark cases, each of which includes a full case citation, an introduction, a summary from WestLaw, excerpts from the case, and the decision. The updated edition includes Hamdi v. Rumsfeld, Roper v. Simmons, Ring v. Arizona, Atkins v. Virginia, Illinois v. Caballes, and much more.
All-You-Can-Learn Access with Cengage Unlimited
Cengage Unlimited is the first-of-its-kind digital subscription that gives students total and on-demand access to all the digital learning platforms, ebooks, online homework and study tools Cengage has to offer—in one place, for one price. Students get unlimited access to a library of more than 22,000 products for $119.99 per term.