Economics For Today

|

9th Edition
About This Product
Help students visualize economics in action with the most pedagogically rich, complete text on the market: Irvin Tucker's ECONOMICS FOR TODAY, 9E. This dynamic book offers a clear, engaging writing style ideal for students at all levels. Written by a national award-winning educator, ECONOMICS FOR TODAY provides a unique textual and visual learning system that presents and reinforces core concepts, then immediately assesses comprehension to ensure understanding. The author highlights the latest information on economic growth, income distribution, federal deficits, environmental issues, and other economic developments while applying concepts to everyday life.
Related Textbooks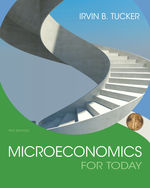 All-You-Can-Learn Access with Cengage Unlimited
Cengage Unlimited is the first-of-its-kind digital subscription that gives students total and on-demand access to all the digital learning platforms, ebooks, online homework and study tools Cengage has to offer—in one place, for one price. Students get unlimited access to a library of more than 22,000 products for $119.99 per term.