Available Study Tools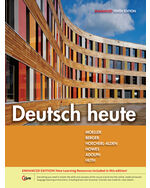 SAM
ISBN-13: 9781305078789
The Workbook Activities section, correlated with the textbook chapters, offers a variety of directed exercises, more open-ended activities, and art- and realia-based activities that provide vocabulary and grammar practice. The Laboratory Activities section accompanies the Lab Audio CD Program and includes listening, speaking, and writing practice. The Tenth Edition offers a Video Manual with more in-depth video activities to complement the Video-Ecke feature in the textbook.
Premium Web Site Instant Access Code
ISBN-13: 9781111945244
Includes premium interactive practice of chapter topics, SAM audio mp3s, in-text audio mp3s, video mp4s.
About This Product
The Enhanced 10th edition of DEUTSCH HEUTE will develop your listening, speaking, reading, and writing skills quickly and efficiently as you begin to learn German. Clear, concise grammar explanations and plenty of opportunities to practice communicating allow you to progress rapidly. Contemporary life and culture in German-speaking countries are introduced through a cast of recurring characters who appear in the "Bausteine für Gespräche" (dialogues) and in some readings and exercises, as well as in the Student Activities Manual and tests. The DEUTSCH HEUTE program is enhanced by the iLrn Heinle Learning Center. Everything you need to master the skills and concepts of the course is built into this dynamic learning environment. The iLrn Heinle Learning Center includes an audio-enhanced eBook; assignable textbook activities; companion videos to accompany the "Video-Ecke" section in the textbook; partnered voice-recorded activities; ShareIt!, allowing students to upload files, photos and videos for classmate and instructor comment; an online workbook and lab manual with audio; interactive enrichment activities; links to German grammar tutorials; and a diagnostic study tool to help students prepare for exams.
All-You-Can-Learn Access with Cengage Unlimited
Cengage Unlimited is the first-of-its-kind digital subscription that gives students total and on-demand access to all the digital learning platforms, ebooks, online homework and study tools Cengage has to offer—in one place, for one price. Students get unlimited access to a library of more than 22,000 products for $119.99 per term.