Available Study Tools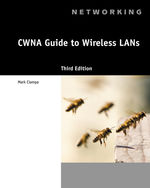 CourseMate for CWNA Guide to Wireless LANs, 1 term Instant Access
ISBN-13: 9781133132233
Cengage Learning's CourseMate brings course concepts to life with interactive learning, study, and exam preparation tools that support the printed textbook. Maximize your course success with the integrated eBook and chapter-specific learning tools that include flashcards, quizzes, videos, and more in your CourseMate. Key Features: Interactive eBook, Engagement Tracker, Learning Objectives, Tutorial Quizzes, Glossary and Flashcards, and Web Links and References.
About This Product
CWNA GUIDE TO WIRELESS LANS, 3rd Edition provides students with the conceptual knowledge and hands-on skills needed to work with wireless technology in a network administration environment as well as pass the Certified Wireless Network Administrator (CWNA) exam. The text covers fundamental topics, such as planning, designing, installing, securing, and configuring wireless LANs. It also details common wireless LAN uses including maintenance, security, and business applications. The third edition is designed around the latest version of the CWNA exam, as well as the new IEEE 802.11 standard, making CWNA GUIDE TO WIRELESS LANS the practical guide that prepares students for real-world wireless networking.
All-You-Can-Learn Access with Cengage Unlimited
Cengage Unlimited is the first-of-its-kind digital subscription that gives students total and on-demand access to all the digital learning platforms, ebooks, online homework and study tools Cengage has to offer—in one place, for one price. Students get unlimited access to a library of more than 22,000 products for $119.99 per term.