All-You-Can-Learn Access with Cengage Unlimited
Meet Cengage Unlimited, access to all your Cengage courses on platforms like MindTap and WebAssign, our library of ebooks, study guides and tools, and a $7.99 rental with free shipping, all with one subscription starting at $119.99 per term. No matter how many courses you enroll in, or how many ebooks you use, the price of Cengage Unlimited stays the same.
Available Study Tools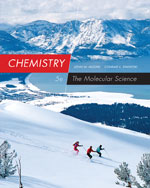 Study Guide
ISBN-13: 9781285778662
Study more effectively and improve your performance at exam time with this guide! The Study Guide for CHEMISTRY: THE MOLECULAR SCIENCE, FOURTH EDITION contains helpful learning tools, such as brief notes on chapter sections with examples, review of key terms, and practice tests (with answers).
Student Solutions Manual
ISBN-13: 9781285778655
Go beyond the answers to truly understanding the steps it takes to get there! This solutions manual contains fully worked-out solutions to end-of chapter questions that have blue, boldface numbers and are answered in the back of the text. Solutions match the problem-solving strategies used in the main text.
About This Product
In CHEMISTRY: THE MOLECULAR SCIENCE, the authors -- both winners of the ACS Pimentel Award in Chemical Education -- use everyday applications that reveal chemistry as a subject that is relevant to engineering, biology, and environmental science. A revised, annotated art program emphasizes the three concept levels in a pedagogically sound approach to understanding molecules, concepts, and equations. Online lessons in OWL -- the #1 online learning system for chemistry accompany many end-of-chapter questions.
All-You-Can-Learn Access with Cengage Unlimited
Cengage Unlimited is the first-of-its-kind digital subscription that gives students total and on-demand access to all the digital learning platforms, ebooks, online homework and study tools Cengage has to offer—in one place, for one price. Students get unlimited access to a library of more than 22,000 products for $119.99 per term.