Available Study Tools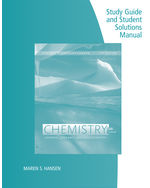 Study Guide with Student Solutions Manual
ISBN-13: 9781305968608
The Study Guide and Student Solutions Manual tests you on the learning objectives in each chapter and provides answers to all of the even-numbered end-of-chapter exercises. Additional Activities include specific questions for each section as well as a summary activity. Each chapter is rounded out with a Self Test with answers.
Safety Scale Laboratory Experiments
ISBN-13: 9781305968554
Succeed in your chemistry course using this lab manual's unique blend of laboratory skills and exercises that effectively illustrate concepts from the main text, CHEMISTRY FOR TODAY: GENERAL, ORGANIC, AND BIOCHEMISTRY, 8th and 9th Editions. The book's 15 general chemistry and 20 organic/biochemistry safety-scale laboratory experiments use small quantities of chemicals and emphasize safety and proper disposal of materials. 'Safety-scale' is the authors' own term for describing the amount of chemicals each lab experiment requires -- less than macroscale quantities, which are expensive and hazardous, and more than microscale quantities, which are difficult to work with and require special equipment.
About This Product
Distinguished by its superior allied health focus and integration of technology, the Ninth Edition of Seager, Slabaugh and Hansen's CHEMISTRY FOR TODAY: GENERAL, ORGANIC, and BIOCHEMISTRY meets the needs of today's diverse students with varied applications, examples, boxed features, interactive technology tools, and real-life case studies. CHEMISTRY FOR TODAY dispels students' inherent fear of chemistry and instills an appreciation for the role that chemistry plays in students' daily lives through a rich pedagogical structure and an accessible writing style with lucid explanations. The book also provides greater support in both problem-solving and critical-thinking skills -- two key skills necessary for student success. By demonstrating the importance of chemistry concepts to their future careers, the authors not only help students set goals, but also help them focus on achieving them. Available with OWLv2, the most trusted online learning solution for chemistry.
All-You-Can-Learn Access with Cengage Unlimited
Cengage Unlimited is the first-of-its-kind digital subscription that gives students total and on-demand access to all the digital learning platforms, ebooks, online homework and study tools Cengage has to offer—in one place, for one price. Students get unlimited access to a library of more than 22,000 products for $119.99 per term.