OWLv2 for Chemistry for Engineering Students

|

3rd Edition
All-You-Can-Learn Access with Cengage Unlimited
Meet Cengage Unlimited, access to all your Cengage courses on platforms like MindTap and WebAssign, our library of ebooks, study guides and tools, and a $7.99 rental with free shipping, all with one subscription starting at $119.99 per term. No matter how many courses you enroll in, or how many ebooks you use, the price of Cengage Unlimited stays the same.
Available Study Tools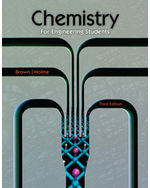 Student Solutions Manual with Study Guide
ISBN-13: 9781285845241
Using this STUDENT SOLUTIONS MANUAL AND STUDY GUIDE, you can study more effectively and improve your performance at exam time! This comprehensive guide walks you through the step-by-step solutions to the odd-numbered end-of-chapter problems in the text. Because the best way for you to learn and understand the concepts is to work multiple, relevant problems on a daily basis and to have reinforcement of important topics and concepts from the book, the STUDENT SOLUTIONS MANUAL gives you instant feedback by providing you with not only the answers, but also detailed explanations of each problem's solution. Also included are Study Goals and Chapter Objective quizzes for each chapter of the text.
About This Product
Created by teaching chemists, OWLv2 is a powerful online learning system for chemistry with a unique Mastery Learning approach, which allows students to practice at their own pace, receive meaningful feedback and access a variety of learning resources to help them master chemistry and achieve better grades.
All-You-Can-Learn Access with Cengage Unlimited
Cengage Unlimited is the first-of-its-kind digital subscription that gives students total and on-demand access to all the digital learning platforms, ebooks, online homework and study tools Cengage has to offer—in one place, for one price. Students get unlimited access to a library of more than 22,000 products for $119.99 per term.