Why pay by the book when you can subscribe and save?
With Cengage Unlimited you get all your Cengage access codes on platforms like MindTap and WebAssign plus online versions of your textbooks for one price per semester. For $119.99 you also get access to study tools like flashcards powered by Quizlet, a textbook rental with each access code, extras from partners like Chegg® and more. Subscribe to Cengage Unlimited and save on your studies this semester.
Available Study Tools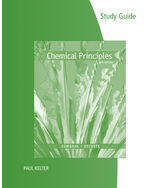 Study Guide
ISBN-13: 9781305867123
The perfect way to prepare for exams, build problem-solving skills, and get the grade you want! This comprehensive self-study aid contains alternative strategies for solving problems, supplemental explanations for the most difficult material, and self-tests. Approximately 400 worked examples and 1,200 practice problems (with answers) are included to help you master the concepts covered in the text.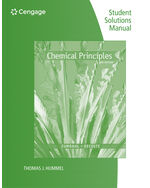 Student Solutions Manual
ISBN-13: 9781305867116
This manual contains answers and detailed solutions to all the in-chapter Exercises, Concept Checks, and Self-Assessment and Review Questions, plus step-by-step solutions to selected odd-numbered end-of-chapter problems.
About This Product
CHEMICAL PRINCIPLES, 8th Edition, provides a rigorous but understandable introduction to chemistry that emphasizes conceptual understanding and the importance of models. Known for helping students develop a qualitative, conceptual foundation that gets them thinking like chemists, this market-leading resource is designed for students with solid mathematical preparation. This edition features a new section on "Solving a Complex Problem" that discusses how to solve problems in a creative way based on understanding the fundamental ideas of chemistry. This edition is also enhanced by an increase of problem-solving techniques in the solutions to the Examples, new student learning aids, new 'Chemical Insights" and "Chemistry Explorers" boxes, and more.
All-You-Can-Learn Access with Cengage Unlimited
Cengage Unlimited is the first-of-its-kind digital subscription that gives students total and on-demand access to all the digital learning platforms, ebooks, online homework and study tools Cengage has to offer—in one place, for one price. Students get unlimited access to a library of more than 22,000 products for $119.99 per term.