Available Study Tools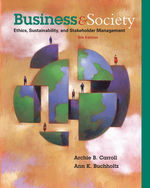 CourseMate for Business and Society: Ethics, Sustainability, and Stakeholder Management, 1 term Instant Access
ISBN-13: 9781285779027
Make the grade with BUSINESS AND SOCIETY, Ninth Edition, CourseMate! This interactive website helps you make the most of your study time with everything you need to succeed online. An interactive eBook allows you to take notes, highlight, bookmark, and search the complete eBook. Interactive quizzes, links to related websites, Key Terms, and interactive BBC video quizzes help you master today's most important business concepts.
About This Product
Engage your students in the study of the law and what it means to them with UNDERSTANDING THE LAW, Seventh Edition. This popular text discusses how various aspects of the law affect the individual, filling a void for those looking for a more introductory text that covers many of the personal law issues that confront people in their everyday lives. Designed for introductory courses, UNDERSTANDING THE LAW uses hypothetical and real examples to illustrate important points of the law and to inspire lively class discussion. This edition incorporates new coverage of ethical issues and the law. These ethical and moral issues are covered in boxed readings as well as throughout each chapter. This edition continues to incorporate coverage of international and comparative law throughout to give you essential knowledge for today's global marketplace.
All-You-Can-Learn Access with Cengage Unlimited
Cengage Unlimited is the first-of-its-kind digital subscription that gives students total and on-demand access to all the digital learning platforms, ebooks, online homework and study tools Cengage has to offer—in one place, for one price. Students get unlimited access to a library of more than 22,000 products for $119.99 per term.