Available Study Tools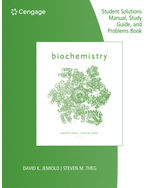 Study Guide with Student Solutions Manual and Problems Book
ISBN-13: 9781305882409
This complete solutions manual and study guide is the perfect way to prepare for exams, build problem-solving skills, and get the grade you want! This useful resource reinforces skills with activities and practice problems for each chapter. After completing the end-of-chapter exercises, you can check your answers for the odd-numbered questions.
About This Product
Continuing Garrett and Grisham's innovative conceptual and organizing "Essential Questions" framework, BIOCHEMISTRY guides students through course concepts in a way that reveals the beauty and usefulness of biochemistry in the everyday world. Offering a balanced and streamlined presentation, this edition has been updated throughout with new material and revised presentations. For the first time, this book is integrated with OWLv2, a powerful online learning system for chemistry with book-specific end-of-chapter material that engages students and improves learning outcomes.
All-You-Can-Learn Access with Cengage Unlimited
Cengage Unlimited is the first-of-its-kind digital subscription that gives students total and on-demand access to all the digital learning platforms, ebooks, online homework and study tools Cengage has to offer—in one place, for one price. Students get unlimited access to a library of more than 22,000 products for $119.99 per term.