Available Study Tools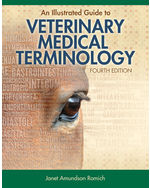 CourseMate for An Illustrated Guide to Veterinary Medical Terminology, 2 terms Instant Access
ISBN-13: 9781133125822
Many of our print offerings are also available in digital formats on www.CengageBrain.com. CengageBrain eBooks & eChapters are compatible with desktop computers and mobile devices such as the iPad, iPhone, iPod Touch, Kindle Fire & Android devices. Students can highlight, take notes and access content without a software download. For more information, visit, http://www.cengagebrain.com/shop/newereader.html.
About This Product
Providing the ultimate terminology reference for veterinary assistants and technicians, AN ILLUSTRATED GUIDE TO VETERINARY MEDICAL TERMINOLOGY, 4e provides an engaging approach to learning medical terms and understanding basic principles of veterinary medicine. This user-friendly book delivers a unique pedagogical presentation that makes it a comprehensive learning resource. Its systematic approach to learning the parts of medical terms enables students to understand basic medical concepts and apply critical thinking skills in determining the meaning of new medical terms. Focusing on how medical terms are formed, analyzed, and defined, the book discusses anatomical landmarks, the positioning of animals, and the relationships between body parts. It also introduces terms used in the animal industry. Case studies illustrate how medical terminology is experienced in real-world practice, and an audio wordlist enables students to hear the terms they are learning. In addition, the Fourth Edition features greatly expanded artwork.
All-You-Can-Learn Access with Cengage Unlimited
Cengage Unlimited is the first-of-its-kind digital subscription that gives students total and on-demand access to all the digital learning platforms, ebooks, online homework and study tools Cengage has to offer—in one place, for one price. Students get unlimited access to a library of more than 22,000 products for $119.99 per term.