Illuminating Resources to Engage Tweens
Support learners grades 6-8 with titles on a diverse range of subjects: from sports, to history, to general interests like cooking. The Teen's Guides series also offers helpful information on relevant topics like stress, peer pressure, and bullying. Be the afterschool spot with electronic resources like:
InfoTrac Junior Edition provides a multisource for the research needs of middle school students.
Student Resources In Context intuitively conveys needed information on all core subjects from Science to Literature to History.
Kids are connected – give them eBooks they can access anywhere, anytime!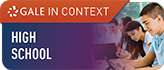 From Science to Literature to History
From eye-catching, media-rich homepage to the fast navigation options, Student Resources In Context helps students develop both research and critical-thinking skills while covering the spectrum of student-focused subject matter. Learn more »
Showing 1 - 50 of 770 Results