The Web Collection Revealed Creative Cloud

|

1st Edition
Sherry Bishop, BSBA, MEd/Jim Shuman, MBA/Sasha Vodnik
Available Study Tools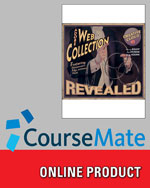 CourseMate for The Web Collection Revealed Creative Cloud: Premium Edition, 2 terms Instant Access
ISBN-13: 9781305269620
The more you study, the better the results. Make the most of your study time by accessing everything you need to succeed in one place. Read your textbook, take notes, review flashcards, watch videos, and take practice quizzes—online with CourseMate.
About This Product
This invaluable, all-in-one guide provides a thorough introduction to web design and development with Adobe Dreamweaver® CC, Adobe Flash® CC, and—new to this edition—Adobe Edge® CC. In addition to detailed information on the current interface, features, and functionality of each program, the text includes step-by-step tutorials and hands-on projects to help readers master industry-leading software while honing practical skills with real-world relevance. The text concludes with a chapter devoted to integration of all three applications to create a dynamic website incorporating Flash and Edge elements. In addition to accurate, up-to-date content, the text features full-color illustrations and an appealing, user-friendly presentation style to facilitate learning and make even complex material easier to master.
All-You-Can-Learn Access with Cengage Unlimited
Cengage Unlimited is the first-of-its-kind digital subscription that gives students total and on-demand access to all the digital learning platforms, ebooks, online homework and study tools Cengage has to offer—in one place, for one price. Students get unlimited access to a library of more than 22,000 products for $119.99 per term.