Why pay by the book when you can subscribe and save?
With Cengage Unlimited you get all your Cengage access codes on platforms like MindTap and WebAssign plus online versions of your textbooks for one price per semester. For $119.99 you also get access to study tools like flashcards powered by Quizlet, a textbook rental with each access code, extras from partners like Chegg® and more. Subscribe to Cengage Unlimited and save on your studies this semester.
Available Study Tools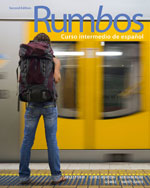 Student Activities Manual
ISBN-13: 9780495800736
This essential component follows the organization of the main text and provides additional reading, writing, viewing, listening, and pronunciation practice outside of class plus practice with vocabulary and structures.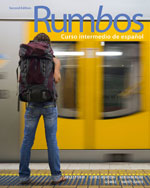 Heinle eSAM 3-Semester Instant Access Code
ISBN-13: 9780495801443
Designed specifically for today's computer-savvy students, Heinle eSAM (powered by QUIA™) is an advanced and easy-to-use e-learning platform for delivering activities to you via the Web. It is also an integrated course management system that automatically grades many types of exercises and then sends the results straight to a versatile cross-platform electronic grade book that allows you to track your results, and even has a floating accent bar for world languages! You can access the eSAM if your book comes packaged with a printed access card.
Premium Web Site 3-Semester Instant Access Code
ISBN-13: 9780495801580
Suite of online digital resources for Rumbos, this is an integrated, multimedia package that complements your text and helps you succeed in your course online anytime, anywhere. Make it easier to use all the eResources you want using this one-stop online portal.
About This Product
RUMBOS,ENHANCED, 2nd Edition, provides robust support to help students 'fill in the gaps' that might be left from their first year of Spanish study, including review activities, indices of first year grammar and vocabulary, and student annotations. RUMBOS also carefully leads students to higher levels of communicative competence through the combination of functional and contextualized vocabulary presentations, targeted practice of more advanced and often problematic grammatical structures, and process-oriented reading and writing sections with integrated skill-building strategies. This new ENHANCED EDITION also showcases five, engaging cortos (short, independent films).
All-You-Can-Learn Access with Cengage Unlimited
Cengage Unlimited is the first-of-its-kind digital subscription that gives students total and on-demand access to all the digital learning platforms, ebooks, online homework and study tools Cengage has to offer—in one place, for one price. Students get unlimited access to a library of more than 22,000 products for $119.99 per term.