Available Study Tools
Workbook with Lab Manual
ISBN-13: 9781285861623
The student workbook is design to help you retain key chapter content. Included within this resource are chapter objective questions; key-term definition queries; and multiple choice, fill-in-the-blank, and true-or-false problems.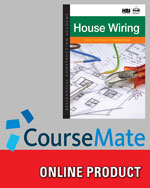 CourseMate, 2 terms (12 months) Instant Access
ISBN-13: 9781285861500
Many of our print offerings are also available in digital formats on www.CengageBrain.com. CengageBrain eBooks & eChapters are compatible with desktop computers and mobile devices such as the iPad, iPhone, iPod Touch, Kindle Fire & Android devices. Students can highlight, take notes and access content without a software download. For more information, visit, http://www.cengagebrain.com/shop/newereader.html
About This Product
Completely up to date with the 2014 edition of the National Electrical Code, RESIDENTIAL CONSTRUCTION ACADEMY: HOUSE WIRING, 4TH EDITION introduces the latest and best practices in residential electrical wiring. This vividly illustrated, full-color text is based on the HBI National Skill Standards that cover the skill sets necessary for a first job in construction or as an electrician. This edition covers "green" topics, sustainable building practices, and alternative energy systems. Special features address common residential wiring practices and scenarios and emphasize safety. A hands-on student workbook/lab manual and new 3D immersive simulations are available.
All-You-Can-Learn Access with Cengage Unlimited
Cengage Unlimited is the first-of-its-kind digital subscription that gives students total and on-demand access to all the digital learning platforms, ebooks, online homework and study tools Cengage has to offer—in one place, for one price. Students get unlimited access to a library of more than 22,000 products for $119.99 per term.