Available Study Tools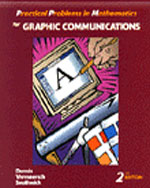 Practical Problems in Mathematics for Graphic Communications
ISBN-13: 9780827379466
This revised and updated edition contains over 650 mathematical problems related to real-life practices in the graphic communications industry. The first five sections center on mathematical principles and the last five relate to solving everyday problems experienced by technical and estimating personnel. A glossary of common graphic communication terms is included. An instructor's guide is also available and includes two achievement review tests and answer keys to problems in the texts and review tests. ALSO AVAILABLE - INSTRUCTOR SUPPLEMENTS CALL CUSTOMER SUPPORT TO ORDER Instructor's Manual ISBN: 0-8273-7947-1
About This Product
This revised and updated edition contains over 650 mathematical problems related to real-life practices in the graphic communications industry. The first five sections center on mathematical principles and the last five relate to solving everyday problems experienced by technical and estimating personnel. A glossary of common graphic communication terms is included. An instructor's guide is also available and includes two achievement review tests and answer keys to problems in the texts and review tests.
All-You-Can-Learn Access with Cengage Unlimited
Cengage Unlimited is the first-of-its-kind digital subscription that gives students total and on-demand access to all the digital learning platforms, ebooks, online homework and study tools Cengage has to offer—in one place, for one price. Students get unlimited access to a library of more than 22,000 products for $119.99 per term.