All-You-Can-Learn Access with Cengage Unlimited
Meet Cengage Unlimited, access to all your Cengage courses on platforms like MindTap and WebAssign, our library of ebooks, study guides and tools, and a $7.99 rental with free shipping, all with one subscription starting at $119.99 per term. No matter how many courses you enroll in, or how many ebooks you use, the price of Cengage Unlimited stays the same.
Available Study Tools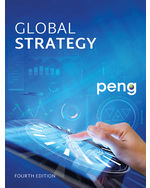 MindTap for Global Strategy
ISBN-13: 9781305577015
MindTap Management for Peng's Global Strategy, 4th Edition helps you learn on your terms. INSTANT ACCESS IN YOUR POCKET. Take advantage of the MindTap Mobile App. Read or listen to the text and study with the aid of instructor notifications, flashcards, and practice quizzes. MINDTAP HELPS YOU GEAR UP FOR ULTIMATE SUCCESS. Track your scores and stay motivated toward goals. Access study tools, including real-world assignments with narrative and video illustrations of global business examples. Whether you have more work to do or are ahead of the curve, you'll know where to focus efforts. And the MindTap Green Dot will charge your confidence along the way. MINDTAP HELPS YOU MAKE THE TEXTBOOK YOURS. No one knows what works for you better than you. Highlight key text, add notes, and create custom flashcards. When it's time to study, everything you've flagged can be gathered into a guide.
About This Product
MindTap Management for Peng's Global Strategy, 4th Edition is the digital learning solution that powers students from memorization to mastery. It gives you complete control of your course—to provide engaging content, to challenge every individual, and to build their confidence. Empower students to accelerate their progress with MindTap. MindTap: Powered by You. MindTap gives you complete ownership of your content and learning experience. Customize the interactive syllabi, emphasize the most important topics, and add your own material or notes in the eBook. MindTap is also available as a bundle option with the loose-leaf version of Peng's Global Strategy.
All-You-Can-Learn Access with Cengage Unlimited
Cengage Unlimited is the first-of-its-kind digital subscription that gives students total and on-demand access to all the digital learning platforms, ebooks, online homework and study tools Cengage has to offer—in one place, for one price. Students get unlimited access to a library of more than 22,000 products for $119.99 per term.