Available Study Tools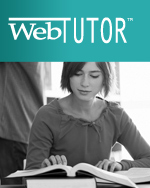 WebTutor™ Advantage on WebCT Instant Access Code, Concise Edition
ISBN-13: 9780324586992
Improve your grades with WebTutor™ online review and test prep tools.
About This Product
Arnold's MACROECONOMICS, Concise Edition focuses on core economics topics, allowing instructors to concentrate on the key concepts they most want their students to understand. Presented in an essential 24 chapters, you'll find the same readability, relatable examples, and solid theory that has made Arnold's ECONOMICS a market leader for seven editions. This text has concise and complete coverage of all core economics concepts, including international trade and finance, providing understanding of all the key topics in less time. Arnold also provides streamlined, topical and concise coverage of important (and sometimes challenging) macroeconomics concepts such as money & banking and monetary and fiscal policy. This is the trademark Arnold solid foundation and real-world relevance distilled into concise coverage at an affordable price.
All-You-Can-Learn Access with Cengage Unlimited
Cengage Unlimited is the first-of-its-kind digital subscription that gives students total and on-demand access to all the digital learning platforms, ebooks, online homework and study tools Cengage has to offer—in one place, for one price. Students get unlimited access to a library of more than 22,000 products for $119.99 per term.