Introduction to Medical Terminology

|

2nd Edition
Available Study Tools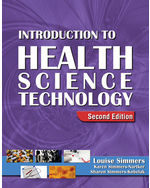 Introduction to Health Science Technology
ISBN-13: 9781418021221
Based on the best-selling Diversified Health Occupations, Introduction to Health Science Technology provides the health science technology student with basic entry level knowledge required for a variety of health care careers, including medical terminology, basic anatomy and physiology, computer training, leadership, team building skills and in-depth medical math. It is also a highly practical resource that covers the core information needed to pursue a career in health care, from an introduction to the health care industry to descriptions of health-related careers to legal and ethical responsibilities of health care workers. Carefully revised with new photos throughout, the second edition includes updated information on the Food Guide Pyramid, infection control information, standards for blood pressure that concur with AMA and AHA recommendations, and much more.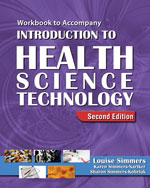 Workbook
ISBN-13: 9781418021238
This workbook contains perforated, performance-based assignment and evaluation sheets. The assignment sheets help students review what they have learned. The evaluation sheets provide criteria or standards for judging student performance for each procedure in the text.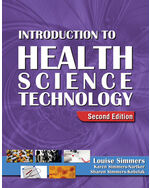 Studyware
ISBN-13: 9781111537920
Succeed in your health science technology course and have fun with Studyware software! This dynamic resource is packed with interactive games, quizzes, and other resources that your mastery of key concepts in the corresponding chapter in your textbook.
About This Product
Designed for the beginning health care student, Introduction to Medical Terminology, Second Edition, simplifies the process of learning hundreds of complex medical terms. The See and Say pronunciation system makes pronouncing unfamiliar terms easy. Because word parts are integral to learning medical terminology, mastery of these "building blocks" is emphasized in every chapter. Organized by body system, chapters begin with an overview of the structures and functions of that system so you can relate these to the specialties, pathology, diagnostic, and treatment procedures that follow. A workbook offers word part and comprehensive medical terminology reviews, flashcards, and learning exercises in a variety of formats that require written answers.
All-You-Can-Learn Access with Cengage Unlimited
Cengage Unlimited is the first-of-its-kind digital subscription that gives students total and on-demand access to all the digital learning platforms, ebooks, online homework and study tools Cengage has to offer—in one place, for one price. Students get unlimited access to a library of more than 22,000 products for $119.99 per term.