Why pay by the book when you can subscribe and save?
With Cengage Unlimited you get all your Cengage access codes on platforms like MindTap and WebAssign plus online versions of your textbooks for one price per semester. For $119.99 you also get access to study tools like flashcards powered by Quizlet, a textbook rental with each access code, extras from partners like Chegg® and more. Subscribe to Cengage Unlimited and save on your studies this semester.
Available Study Tools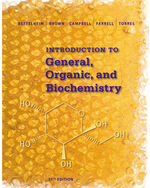 Student Solutions Manual
ISBN-13: 9781305081055
Master problem-solving and prepare for exams using the complete worked-out solutions to all in-text and odd-numbered end-of-chapter questions provided in this manual.
About This Product
This best seller continues to lead the way with a strong focus on current issues, pedagogically rich framework, wide variety of medical and biological applications, visually dynamic art program, and exceptionally strong and varied end-of-chapter problems. Revised and updated throughout, INTRODUCTION TO GENERAL, ORGANIC, AND BIOCHEMISTRY, 11th Edition includes new biochemistry content, new essays on hot topics in the field, and new and revised problems to help students master the material. Also available: the OWLv2 online learning system.
All-You-Can-Learn Access with Cengage Unlimited
Cengage Unlimited is the first-of-its-kind digital subscription that gives students total and on-demand access to all the digital learning platforms, ebooks, online homework and study tools Cengage has to offer—in one place, for one price. Students get unlimited access to a library of more than 22,000 products for $119.99 per term.