Understanding Motor Controls

|

2nd Edition
Available Study Tools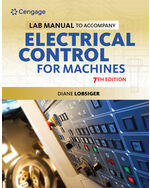 Lab Manual
ISBN-13: 9781285169057
The Laboratory Manual is a valuable tool designed to enhance your lab experience. Lab activities, objectives, materials lists, step-by-step procedures, illustrations, and review questions are commonly found in a Lab Manual.
About This Product
Your students will be able to install, troubleshoot, and test electrical motors like the pros! UNDERSTANDING MOTOR CONTROLS, 2ND Edition uses a real-world systems approach to learning motor control devices. Starting with basic control circuits and components, this book covers all must-know applications and procedures to ensure reader success in the more complex topics. From development and installation to testing and troubleshooting, UNDERSTANDING MOTOR CONTROLS, 2ND Edition prepares future industrial electricians with a solid foundation in basic control circuits, sensing devices, solid-state controls, variable speed drives, programmable logic controllers (PLCs), and more.
All-You-Can-Learn Access with Cengage Unlimited
Cengage Unlimited is the first-of-its-kind digital subscription that gives students total and on-demand access to all the digital learning platforms, ebooks, online homework and study tools Cengage has to offer—in one place, for one price. Students get unlimited access to a library of more than 22,000 products for $119.99 per term.