Available Study Tools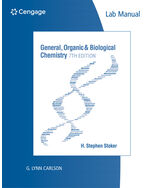 Lab Manual
ISBN-13: 9781305081093
Each experiment in this manual was selected to match topics in your textbook and includes an introduction, a procedure, a page of pre-lab exercises about the concepts the lab illustrates, and a report form. Some have a scenario that places the experiment in a real-world context. In addition, each experiment has a link to a set of references and helpful online resources.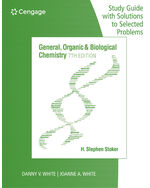 Study Guide with Selected Solutions
ISBN-13: 9781305081086
The perfect way to prepare for exams, build problem-solving skills, and get the grade you want! This useful resource reinforces skills with activities and practice problems for each chapter. After completing the end-of-chapter exercises, you can check your answers for the odd-numbered questions.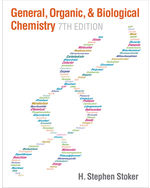 Student Solutions Manual eBook for General, Organic, and Biological Chemistry
ISBN-13: 9781305866959
About This Product
Emphasizing the applications of chemistry and minimizing complicated mathematics, GENERAL, ORGANIC, AND BIOLOGICAL CHEMISTRY is written throughout to help students succeed in the course and master the biochemistry content so important to their future careers. The Sixth Edition's clear explanations, visual support, and effective pedagogy combine to make the text ideal for allied health majors. Early chapters focus on fundamental chemical principles while later chapters build on the foundations of these principles. Mathematics is introduced at point-of-use and only as needed.
All-You-Can-Learn Access with Cengage Unlimited
Cengage Unlimited is the first-of-its-kind digital subscription that gives students total and on-demand access to all the digital learning platforms, ebooks, online homework and study tools Cengage has to offer—in one place, for one price. Students get unlimited access to a library of more than 22,000 products for $119.99 per term.