Construction Jobsite Management

|

3rd Edition
Available Study Tools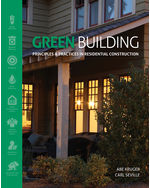 CourseMate for Green Building: Principles and Practices in Residential Construction, 2 terms Instant Access
ISBN-13: 9781133787723
Cengage Learning's CourseMate brings course concepts to life with interactive learning, study, and exam preparation tools that support the printed textbook. Maximize your course success with the integrated eBook and chapter-specific learning tools that include flashcards, quizzes, videos, and more in your CourseMate. Key Features: Interactive eBook, Engagement Tracker, Learning Objectives, Tutorial Quizzes, Glossary and Flashcards, and Web Links and References.
About This Product
This new updated third edition of Construction Jobsite Management deals with all facets of construction project management from the contractor's point of view. It examines the duties that are handled by the project manager, construction superintendent, and construction engineer throughout the progress of a job, from the configurations of a project team through project closeout. A hallmark of this book is its dedicated focus on the activities of jobsite personnel that includes helpful techniques and procedures for effectively managing a project from start to finish. The clear, concise language in which it is written makes this book an essential introduction to the "real world" of effective management techniques.
All-You-Can-Learn Access with Cengage Unlimited
Cengage Unlimited is the first-of-its-kind digital subscription that gives students total and on-demand access to all the digital learning platforms, ebooks, online homework and study tools Cengage has to offer—in one place, for one price. Students get unlimited access to a library of more than 22,000 products for $119.99 per term.