FOCUS on Community College Success

|

4th Edition
Why pay by the book when you can subscribe and save?
With Cengage Unlimited you get all your Cengage access codes on platforms like MindTap and WebAssign plus online versions of your textbooks for one price per semester. For $119.99 you also get access to study tools like flashcards powered by Quizlet, a textbook rental with each access code, extras from partners like Chegg® and more. Subscribe to Cengage Unlimited and save on your studies this semester.
Available Study Tools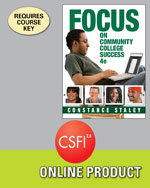 CSFI 2.0 for FOCUS on Community College Success, 1 term Instanct Access
ISBN-13: 9781305252271
CSFI 2.0 is the perfect tool to help you assess yourself at the start of a course in 10 key areas linked to college success, allowing you to identify your areas for improvement to increase your likelihood of success. It also enables you to determine your progress at the end of the course.
About This Product
FOCUS ON COMMUNITY COLLEGE SUCCESS, 4th Edition, delivers strategies for navigating the challenges of juggling school, family, and work, and living/studying at home. This forward-thinking resource strives to improve student retention, motivation, and engagement. It includes expanded coverage on resilience, with strategies for assessing and building it. A revised section on the importance of group work gives students the tools they need to successfully collaborate. Available with MindTap®, an online learning experience that combines learning tools into a singular Learning Path.
All-You-Can-Learn Access with Cengage Unlimited
Cengage Unlimited is the first-of-its-kind digital subscription that gives students total and on-demand access to all the digital learning platforms, ebooks, online homework and study tools Cengage has to offer—in one place, for one price. Students get unlimited access to a library of more than 22,000 products for $119.99 per term.