Green Building: Principles and Practices in Residential Construction

|

1st Edition
Available Study Tools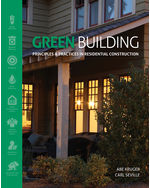 CourseMate for Green Building: Principles and Practices in Residential Construction, 2 terms Instant Access
ISBN-13: 9781133787723
Cengage Learning's CourseMate brings course concepts to life with interactive learning, study, and exam preparation tools that support the printed textbook. Maximize your course success with the integrated eBook and chapter-specific learning tools that include flashcards, quizzes, videos, and more in your CourseMate. Key Features: Interactive eBook, Engagement Tracker, Learning Objectives, Tutorial Quizzes, Glossary and Flashcards, and Web Links and References.
About This Product
GREEN BUILDING: PRINCIPLES AND PRACTICES IN RESIDENTIAL CONSTRUCTION provides a current, comprehensive guide to this exciting, emerging field. From core concepts to innovative applications of cutting-edge technology and the latest industry trends, this text offers an in-depth introduction to the construction of "green" homes. Unlike many texts that adopt a product-oriented approach, this book emphasizes the crucial planning, processes, and execution methods necessary for effective, environmentally sound construction. This text demonstrates that Earth-friendly products and energy-efficient materials take planning in order to make a building truly green. This visionary text helps students and professionals develop the knowledge and skills to "think green" from start to finish, empowering and inspiring them to build truly sustainable homes.
All-You-Can-Learn Access with Cengage Unlimited
Cengage Unlimited is the first-of-its-kind digital subscription that gives students total and on-demand access to all the digital learning platforms, ebooks, online homework and study tools Cengage has to offer—in one place, for one price. Students get unlimited access to a library of more than 22,000 products for $119.99 per term.