Essentials of Economics

|

7th Edition
Available Study Tools
Study Guide
ISBN-13: 9781285864266
David R. Hakes (University of Northern Iowa) has prepared a study guide that will enhance your success. Each chapter of the study guide includes learning objectives, a description of the chapter's context and purpose, a chapter review, key terms and definitions, advanced critical-thinking questions, and helpful hints for understanding difficult concepts. You can develop your understanding of the material by doing the practice problems and answering the short-answer questions. Then you can assess your mastery of the key concepts with the self-test, which includes true/false and multiple-choice questions.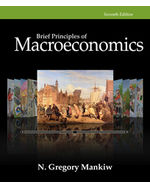 CourseMate for Brief Principles of Macroeconomics, 1 term Instant Access
ISBN-13: 9781285853468
Cengage Learning's Economics CourseMate brings course concepts to life with interactive learning, study, and exam preparation tools that support the printed textbook. Your comprehension will soar as you work with the printed textbook and the textbook-specific website. Economics CourseMate goes beyond the book to deliver what you need!
About This Product
ESSENTIALS OF ECONOMICS, Seventh Edition, continues to be the most popular and widely-used text in the economics classroom. A text by a superb writer and economist that stresses the most important concepts without overwhelming students with an excess of detail. A thorough update has been made to keep all chapters fresh and relevant with current Economic coverage. MindTap, the cutting edge online environment is available with new enhancements that include Graph Builder and Adaptive Test Prep that allow students extra preparation in graph drawing and test review. The seventh edition premier ancillary package is the most extensive in the industry, using a team of instructors/preparers that have been with the project since the first edition.
All-You-Can-Learn Access with Cengage Unlimited
Cengage Unlimited is the first-of-its-kind digital subscription that gives students total and on-demand access to all the digital learning platforms, ebooks, online homework and study tools Cengage has to offer—in one place, for one price. Students get unlimited access to a library of more than 22,000 products for $119.99 per term.