All-You-Can-Learn Access with Cengage Unlimited
Meet Cengage Unlimited, access to all your Cengage courses on platforms like MindTap and WebAssign, our library of ebooks, study guides and tools, and a $7.99 rental with free shipping, all with one subscription starting at $119.99 per term. No matter how many courses you enroll in, or how many ebooks you use, the price of Cengage Unlimited stays the same.
Available Study Tools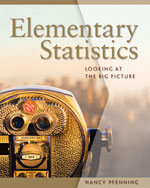 Student Solutions Manual
ISBN-13: 9780495829966
Homework help! Worked-out solutions to the odd-numbered problems.
About This Product
Included with every new text, Aplia is an online interactive learning solution that improves comprehension and outcomes by increasing student effort and engagement. Founded by a professor to enhance his own courses, Aplia provides automatically graded assignments with detailed, immediate explanations on every question, and innovative teaching materials. Our easy to use system has been used by more than 1,000,000 students at over 1,800 institutions.
All-You-Can-Learn Access with Cengage Unlimited
Cengage Unlimited is the first-of-its-kind digital subscription that gives students total and on-demand access to all the digital learning platforms, ebooks, online homework and study tools Cengage has to offer—in one place, for one price. Students get unlimited access to a library of more than 22,000 products for $119.99 per term.