Discovery Series: Introduction to Psychology

|

1st Edition
Available Study Tools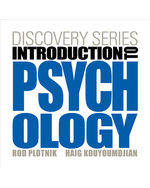 CourseMate for Discovery Series: Introduction to Psychology, 1 term Instant Access
ISBN-13: 9781111842093
Cengage Learning's CourseMate brings course concepts to life with interactive learning, study, and exam preparation tools that support the printed textbook. Maximize your course success with the integrated eBook and chapter-specific learning tools that include flashcards, quizzes, videos, and more in your CourseMate. Key Features: Interactive eBook, Engagement Tracker, Learning Objectives, Tutorial Quizzes, Glossary and Flashcards, and Web Links and References.
Web Tutor on Blackboard® with eBook on Gateway for Discovery Series: Introduction to Psychology, 1 term Instant Access
ISBN-13: 9781285049854
Succeed in your psychology course with this anytime, anywhere customized learning solution that reinforces and clarifies complex concepts, provides online quizzes with instant feedback and other online learning tools, and keeps you connected to your textbook, instructor, and classmates.
About This Product
The Cengage Learning DISCOVERY SERIES: INTRODUCTION TO PSYCHOLOGY is designed to deliver traditional course content in an innovative "hybrid" learning format--instruction presented in a printed handbook paired with integrated online applications and assessments. The program promotes measurable mastery of core course learning objectives by guiding students' active engagement with content delivered through the book, images, video, simulations, and assessments. This contemporary approach to learning seamlessly integrates text and technology, enabling students to easily move from the book's instruction to its online applications for a deeper, lasting understanding of the core psychological concepts, and for assessments (all assignable) that reliably track students' progress and performance.
All-You-Can-Learn Access with Cengage Unlimited
Cengage Unlimited is the first-of-its-kind digital subscription that gives students total and on-demand access to all the digital learning platforms, ebooks, online homework and study tools Cengage has to offer—in one place, for one price. Students get unlimited access to a library of more than 22,000 products for $119.99 per term.