SAM 2013 Assessment, Training and Projects with eBook for Discovering Computers 2016 v3.0

|

1st Edition
All-You-Can-Learn Access with Cengage Unlimited
Meet Cengage Unlimited, access to all your Cengage courses on platforms like MindTap and WebAssign, our library of ebooks, study guides and tools, and a $7.99 rental with free shipping, all with one subscription starting at $119.99 per term. No matter how many courses you enroll in, or how many ebooks you use, the price of Cengage Unlimited stays the same.
Available Study Tools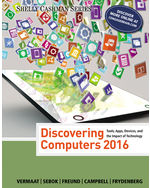 CourseMate for Discovering Computers 2016, 1 term Instant Access
ISBN-13: 9781305392601
Cengage Learning's Computing CourseMate brings course concepts to life with interactive learning, study, and exam preparation tools that support the printed textbook. Access an integrated eBook, learning tools including glossaries, flashcards, quizzes, and more in your Computing CourseMate.
About This Product
SAM trains, and tests essential Microsoft Office and computer concepts skills. Students engage in a hands-on environment, then apply their skills to real-world applications. SAM's auto-graded assignments and flexible reporting tools saves instructors time and energy.
All-You-Can-Learn Access with Cengage Unlimited
Cengage Unlimited is the first-of-its-kind digital subscription that gives students total and on-demand access to all the digital learning platforms, ebooks, online homework and study tools Cengage has to offer—in one place, for one price. Students get unlimited access to a library of more than 22,000 products for $119.99 per term.