Refrigeration and Air Conditioning Technology

|

8th Edition
John Tomczyk/Eugene Silberstein, B.A., M.S., BEAP, CMHE/Bill Whitman/Bill Johnson
All-You-Can-Learn Access with Cengage Unlimited
Meet Cengage Unlimited, access to all your Cengage courses on platforms like MindTap and WebAssign, our library of ebooks, study guides and tools, and a $7.99 rental with free shipping, all with one subscription starting at $119.99 per term. No matter how many courses you enroll in, or how many ebooks you use, the price of Cengage Unlimited stays the same.
Available Study Tools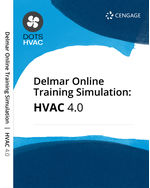 Delmar Online Training Simulation: HVAC 3.0 Pro Version
ISBN-13: 9781337569293
DELMAR ONLINE TRAINING SIMULATION: HVAC 3.0 PRO VERSION is a 3-D, immersive simulation that offers a rich learning experience that mimics field performance. It challenges users to master diagnostic and troubleshooting skills across seven pieces of HVAC equipment – Gas Furnace, Oil Furnace, Gas Boiler, Split Residential A/C, Commercial A/C, Heat Pumps, and Commercial Freezers. Delmar Online Training Simulation: HVAC 3.0 Pro Version offers approximately 200 scenarios that allow users to troubleshoot and build diagnostic and critical thinking skills. Two modes within the simulation promote incremental learning: Training Mode and Challenge Mode. Training Mode has fixed scenarios to aid in familiarizing the user with the equipment, the problem needing attention, and using the simulation. Challenge Mode has randomized scenarios within three levels: Beginner, Intermediate, and Advanced. Both modes require users to diagnose a fault or faults and perform the repair successfully while materials and labor costs are tracked.
About This Product
Equip your students with the knowledge and skills they need to maintain and troubleshoot today's complex heating, air conditioning, and refrigeration systems with REFRIGERATION AND AIR CONDITIONING TECHNOLOGY, 8th Edition. This time-honored best seller offers hands-on guidance, practical applications, and the solid foundation your students need to fully understand today's HVAC service and repair, its environmental challenges, and their solutions. Focused on sustainable technology in today's HVAC/R industry with an emphasis on new technologies and green awareness, the 8th Edition has been updated with the latest advances in the industry and covers the all-important soft skills and customer relations issues that impact customer satisfaction and employment success. Memorable examples, more than 260 supporting photos, and unique Service Call features bring concepts to life and help students develop the critical skills needed for success in their future careers.
Related Textbooks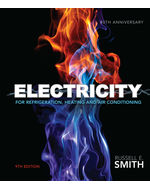 All-You-Can-Learn Access with Cengage Unlimited
Cengage Unlimited is the first-of-its-kind digital subscription that gives students total and on-demand access to all the digital learning platforms, ebooks, online homework and study tools Cengage has to offer—in one place, for one price. Students get unlimited access to a library of more than 22,000 products for $119.99 per term.