MindTap with Selections from Criminal Law & Procedure for the Paralegal

|

4th Edition
All-You-Can-Learn Access with Cengage Unlimited
Meet Cengage Unlimited, access to all your Cengage courses on platforms like MindTap and WebAssign, our library of ebooks, study guides and tools, and a $7.99 rental with free shipping, all with one subscription starting at $119.99 per term. No matter how many courses you enroll in, or how many ebooks you use, the price of Cengage Unlimited stays the same.
Available Study Tools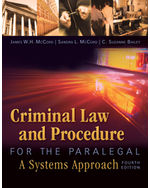 WebTutor on Angel for Criminal Law and Procedure for the Paralegal, 1 term Instant Access
ISBN-13: 9781133128236
CourseMate for Criminal Law and Procedure for the Paralegal, 1 term Instant Access
ISBN-13: 9781111644437
Cengage Learning's CourseMate brings course concepts to life with interactive learning, study, and exam preparation tools that support the printed textbook. Maximize your course success with the integrated eBook and chapter-specific learning tools that include flashcards, quizzes, videos, and more in your CourseMate. Key Features: Interactive eBook, Engagement Tracker, Learning Objectives, Tutorial Quizzes, Glossary and Flashcards, and Web Links and References.
About This Product
MindTap Criminal Law and Procedure for the Paralegal is a personalized, fully online digital learning platform of authoritative content, assignments, and services that engages your students with interactivity while also offering you choice in the configuration of coursework and enhancement of the curriculum via web-apps known as MindApps. MindApps range from ReadSpeaker (which reads the text out-loud to students), to Kaltura (allowing you to insert inline video and audio into your curriculum) to ConnectYard (allowing you to create digital "yards" through social media –all without "friending" your students). MindTap Criminal Law and Procedure for the Paralegal is well beyond an eBook, a homework solution or digital supplement, a resource center website, a course delivery platform or a Learning Management System. It is the first in a new category—the Personal Learning Experience. Criminal Law and Procedure for the Paralegal is an introduction to areas of law common to many legal practices as well as: Examine criminal law and the law that governs the criminal process in the United States. Analyze and examine crimes by their elements and defenses. Practice legal writing skills by drafting documents commonly used throughout the criminal prosecution process. Explore the paralegal's role in criminal procedure, from case intake through to appeal.
All-You-Can-Learn Access with Cengage Unlimited
Cengage Unlimited is the first-of-its-kind digital subscription that gives students total and on-demand access to all the digital learning platforms, ebooks, online homework and study tools Cengage has to offer—in one place, for one price. Students get unlimited access to a library of more than 22,000 products for $119.99 per term.