Available Study Tools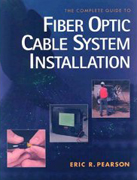 Complete Guide to Fiber Optic Cable Systems Installation
ISBN-13: 9780827373181
Destined to become the industry reference, this book offers comprehensive, complete, state-of-the-art information and procedures for installing fiber optic cable systems. This single resource cover in detail, all of the procedures for installation, testing and commissioning and troubleshooting of these systems. Each chapter focuses on a specific aspect of the process including cable installation, cable end preparation, connector installation, splicing, testing and troubleshooting and contains review questions. Features: -Presentation of complete information for installers of all fiber optic systems -The only source covering troubleshooting procedures -Comprehensive single source for detailed procedures -Optional connector installations steps to reflect increasing installation skills -Extensive figures and photographs enhance comprehension ALSO AVAILABLE INSTRUCTOR SUPPLEMENTS CALL CUSTOMER SUPPORT TO ORDER Instructor's Guide, ISBN: 0-8273-7319-8
About This Product
This book offers comprehensive, unbiased, state-of-the-art information and procedures for installing fiber optic cable systems. It covers, in detail, all of the procedures required for installation, testing, commissioning and troubleshooting of these systems. Each chapter focuses on a specific aspect of the process including cable installation, cable end preparation, connector installation, splicing, testing and troubleshooting and contains review questions.
All-You-Can-Learn Access with Cengage Unlimited
Cengage Unlimited is the first-of-its-kind digital subscription that gives students total and on-demand access to all the digital learning platforms, ebooks, online homework and study tools Cengage has to offer—in one place, for one price. Students get unlimited access to a library of more than 22,000 products for $119.99 per term.