All-You-Can-Learn Access with Cengage Unlimited
Meet Cengage Unlimited, access to all your Cengage courses on platforms like MindTap and WebAssign, our library of ebooks, study guides and tools, and a $7.99 rental with free shipping, all with one subscription starting at $119.99 per term. No matter how many courses you enroll in, or how many ebooks you use, the price of Cengage Unlimited stays the same.
Available Study Tools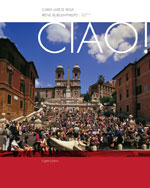 Student Activity Manual Audio CDs
ISBN-13: 9781285097350
This audio program is created specifically to help you practice phonetic elements and provide pronunciation practice and grammar-based aural-recognition and oral-comprehension exercises found in the lab manual portion of the Student Activities Manual.
Student Activity Manual
ISBN-13: 9781133607410
You'll sharpen your ear for spoken Italian, practice listening to and speaking Italian in real-life situations, and expand your understanding of Italian culture with this practical Italian workbook and lab manual. It's a valuable companion to the CIAO! program. Filled with vocabulary-expansion activities, grammatical exercises, and illustration- and reality-based activities, this Student Activities Manual gives you the practice you need to succeed.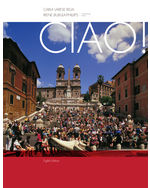 Premium Website for CIAO!, 4 terms Instant Access
ISBN-13: 9781285096520
Designed to help you succeed in your Italian course, the premium website contains many useful student resources including video tutorials, interactive quizzing, web links, PowerPoint presentations, appendices, datasets, a glossary, and more.
All-You-Can-Learn Access with Cengage Unlimited
Cengage Unlimited is the first-of-its-kind digital subscription that gives students total and on-demand access to all the digital learning platforms, ebooks, online homework and study tools Cengage has to offer—in one place, for one price. Students get unlimited access to a library of more than 22,000 products for $119.99 per term.