All-You-Can-Learn Access with Cengage Unlimited
Meet Cengage Unlimited, access to all your Cengage courses on platforms like MindTap and WebAssign, our library of ebooks, study guides and tools, and a $7.99 rental with free shipping, all with one subscription starting at $119.99 per term. No matter how many courses you enroll in, or how many ebooks you use, the price of Cengage Unlimited stays the same.
Available Study Tools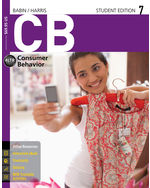 CourseMate for CB 7, 1 term Instant Access
ISBN-13: 9781305403284
CourseMate brings course concepts to life with interactive learning, study, and exam preparation tools that support the printed textbook.
About This Product
Created by the continuous feedback of a "student-tested, faculty-approved" process, CB 7 delivers a visually appealing, succinct print component, tear-out review cards for students and instructors and a consistent online offering with Enhanced CourseMate that includes an eBook in addition to a set of interactive digital tools all at a value-based price and proven to increase retention and outcomes.
All-You-Can-Learn Access with Cengage Unlimited
Cengage Unlimited is the first-of-its-kind digital subscription that gives students total and on-demand access to all the digital learning platforms, ebooks, online homework and study tools Cengage has to offer—in one place, for one price. Students get unlimited access to a library of more than 22,000 products for $119.99 per term.