Business Law: Text and Cases

|

13th Edition
Available Study Tools
Student Guide to the Sarbanes-Oxley Act
ISBN-13: 9780324827194
Enron was once the seventh-largest company on the Fortune 500. Yet, in the wake of revelations of accounting irregularities and securities fraud, it became entangled in the greatest business scandal of a generation and was essentially blinked out of existence after declaring bankruptcy. Similar accounting scandals at Global Crossing, Tyco, WorldCom, Adelphia, HealthSouth, and other companies prompted Congress to pass the Sarbanes-Oxley Act (SOX) in June 2002. This revolutionary act, which embodies the most significant securities law changes since the original federal securities laws of 1933 and 1934, contains provisions that create a new federal agency, restructure the entire accounting industry, reform Wall Street practices, dramatically alter corporate governance practices here and abroad, and attack insider trading and obstruction of justice. A lot has happened since its passage. The Public Company Accounting Oversight Board (PCAOB) has come into being, and the PCAOB and the Securities Exchange Commission (SEC) have issued countless rules to implement the SOX's many legislative mandates. This short guide focuses not only on what each part and section of the SOX means but also on what businesses need to know now that is has been implemented.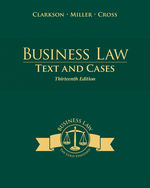 CourseMate for Business Law: Text and Cases, 1 term Instant Access
ISBN-13: 9781285435244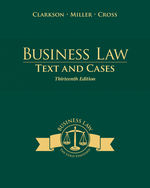 CourseMate for Business Law: Texts and Cases, 2 terms Instant Access
ISBN-13: 9781285435190
About This Product
Comprehensive, authoritative, and student-friendly, longtime market-leader BUSINESS LAW: TEXT AND CASES delivers an ideal blend of classic "black letter law" and cutting-edge coverage of contemporary issues and cases. The first text to implement an undergraduate-oriented pedagogy with traditional law school-like content, BUSINESS LAW continues to set the standard for excellence. The text offers a strong student orientation, making the law accessible, interesting, and relevant. The cases, content, and features of the thirteenth edition have been thoroughly updated to represent the latest developments in business law. Cases range from precedent-setting landmarks to important recent decisions. Ethical, global, and corporate themes are integrated throughout. In addition, numerous critical-thinking exercises challenge students to apply knowledge to real-world issues. The thirteenth edition offers an unmatched range of digital solutions, including MindTap and CengageNOW™ to engage and prepare students online. It is no wonder that BUSINESS LAW is used by more colleges and universities than any other business law text. We now have three new adaptations of this Clarkson book. Please see the Supplements section for more information. "The First Course" is for Business Law I and "Commercial Law for Accountants" is for Business Law II. We offer an accelerated one-semester version as well ("An Accelerated Course"). Finally, if you are seeking Clarkson with summarized cases instead of excerpted cases, please see BUSINESS LAW: ALTERNATE EDITION by Miller/Cross.
All-You-Can-Learn Access with Cengage Unlimited
Cengage Unlimited is the first-of-its-kind digital subscription that gives students total and on-demand access to all the digital learning platforms, ebooks, online homework and study tools Cengage has to offer—in one place, for one price. Students get unlimited access to a library of more than 22,000 products for $119.99 per term.