All-You-Can-Learn Access with Cengage Unlimited
Meet Cengage Unlimited, access to all your Cengage courses on platforms like MindTap and WebAssign, our library of ebooks, study guides and tools, and a $7.99 rental with free shipping, all with one subscription starting at $119.99 per term. No matter how many courses you enroll in, or how many ebooks you use, the price of Cengage Unlimited stays the same.
Available Study Tools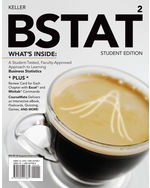 CourseMate for BSTAT 2, 1 term Instant Access
ISBN-13: 9781285460659
About This Product
Aplia offers students premium, automatically graded assignments with detailed explanations that ensure they put forth effort on a regular basis. Aplia saves instructors valuable time they would otherwise spend on routine grading while giving students an easy way to stay on top of coursework with regularly scheduled assignments.
All-You-Can-Learn Access with Cengage Unlimited
Cengage Unlimited is the first-of-its-kind digital subscription that gives students total and on-demand access to all the digital learning platforms, ebooks, online homework and study tools Cengage has to offer—in one place, for one price. Students get unlimited access to a library of more than 22,000 products for $119.99 per term.