All-You-Can-Learn Access with Cengage Unlimited
Meet Cengage Unlimited, access to all your Cengage courses on platforms like MindTap and WebAssign, our library of ebooks, study guides and tools, and a $7.99 rental with free shipping, all with one subscription starting at $119.99 per term. No matter how many courses you enroll in, or how many ebooks you use, the price of Cengage Unlimited stays the same.
Available Study Tools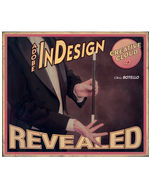 CourseMate for Adobe InDesign Creative Cloud Revealed,2 terms Instant Access
ISBN-13: 9781305262539
The more you study, the better the results. Make the most of your study time by accessing everything you need to succeed in one place. Read your textbook, take notes, review flashcards, watch videos, and take practice quizzes—online with CourseMate.
About This Product
MindTap Media Arts & Design for Botello's Adobe® InDesign Creative Cloud is the digital learning solution that powers students from memorization to mastery. It gives you complete control of your course—to provide engaging content, to challenge every individual, and to build their confidence. Empower students to accelerate their progress with MindTap. MindTap: Powered by You. MindTap gives you complete ownership of your content and learning experience. Personalized teaching becomes yours through a Learning Path built with key student objectives and your syllabus in mind. Control what students see and when they see it. Relevant readings, RSS feeds, and activities take students from basic knowledge to analysis and application. Analytics and reports provide a snapshot of class progress, time in course, engagement, and completion rates.
All-You-Can-Learn Access with Cengage Unlimited
Cengage Unlimited is the first-of-its-kind digital subscription that gives students total and on-demand access to all the digital learning platforms, ebooks, online homework and study tools Cengage has to offer—in one place, for one price. Students get unlimited access to a library of more than 22,000 products for $119.99 per term.