Available Study Tools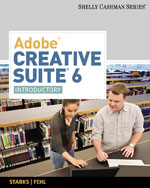 Premium Website for Adobe Creative Suite 6: Introductory, 1 term Instant Access
ISBN-13: 9781285453453
Designed to help you succeed in your web design course, the premium website contains many useful student resources including video tutorials, interactive quizzing, web links, PowerPoint presentations, appendices, datasets, a glossary, and more.
About This Product
ADOBE® DREAMWEAVER® CS6: INTRODUCTORY, 1E follows the Shelly Cashman Series® proven step-by-step, screen-by-screen approach to teaching the Adobe Dreamweaver CS6 software. The pedagogy of this text has been enhanced to reflect the learning styles of today's students. Readers will easily follow along with the chapters in the text to gain valuable software skills to build their own exciting and dynamic Web sites and develop Internet applications.
All-You-Can-Learn Access with Cengage Unlimited
Cengage Unlimited is the first-of-its-kind digital subscription that gives students total and on-demand access to all the digital learning platforms, ebooks, online homework and study tools Cengage has to offer—in one place, for one price. Students get unlimited access to a library of more than 22,000 products for $119.99 per term.