Adobe® Dreamweaver® Creative Cloud Revealed Update

|

1st Edition
Available Study Tools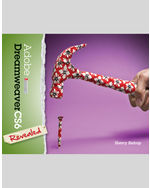 CourseMate with eBook for Adobe Dreamweaver CC Revealed Update, 2 terms Instant Access
ISBN-13: 9781285843230
Cengage Learning's CourseMate brings course concepts to life with interactive learning, study, and exam preparation tools that support the printed textbook. Maximize your course success with the integrated eBook and chapter-specific learning tools that include flashcards, quizzes, videos, and more in your CourseMate. Key Features: Interactive eBook, Engagement Tracker, Learning Objectives, Tutorial Quizzes, Glossary and Flashcards, and Web Links and References.
About This Product
Your Adobe Creative Cloud package includes two components: 1) Online access to Adobe Creative Cloud updates on your CourseMate product, and 2) the CS6 edition of your Adobe book. CourseMate enriches your learning with thorough, chapter-by-chapter summaries of the new Adobe Creative Cloud release. Author-created video introductions cover each chapter's learning objectives, emphasizing their importance for the contemporary design professional. Flashcards, quizzes, and games are also included. Your printed book covers fundamental concepts, starting with the workspace and proceeding logically and intuitively to more advanced topics. Step-by-step tutorials and user-friendly design result in a resource that is comprehensive, clear, and effective. Contact your Learning Consultant to learn more about how CourseMate can enhance the way you teach and your students learn.
All-You-Can-Learn Access with Cengage Unlimited
Cengage Unlimited is the first-of-its-kind digital subscription that gives students total and on-demand access to all the digital learning platforms, ebooks, online homework and study tools Cengage has to offer—in one place, for one price. Students get unlimited access to a library of more than 22,000 products for $119.99 per term.